Today I'm going to share my 4 ingredient recipe for chocolate.  Yes, you read that right.  Make-your-own-chocolate.  It's so easy and delicious that I rarely purchase chocolate anymore, despite having the world's biggest sweet tooth.  The nice thing about this recipe is the versatility.  You can eat the chocolate on its own, dip fruit in it (see chocolate covered strawberries below), cover marshmallows, candied ginger, cookies, etc.  I even covered caramels with it and sprinkled Himalayan pink sea salt on top for some to-die-for salted caramels.  Better than anything from Ghirardelli, I swear!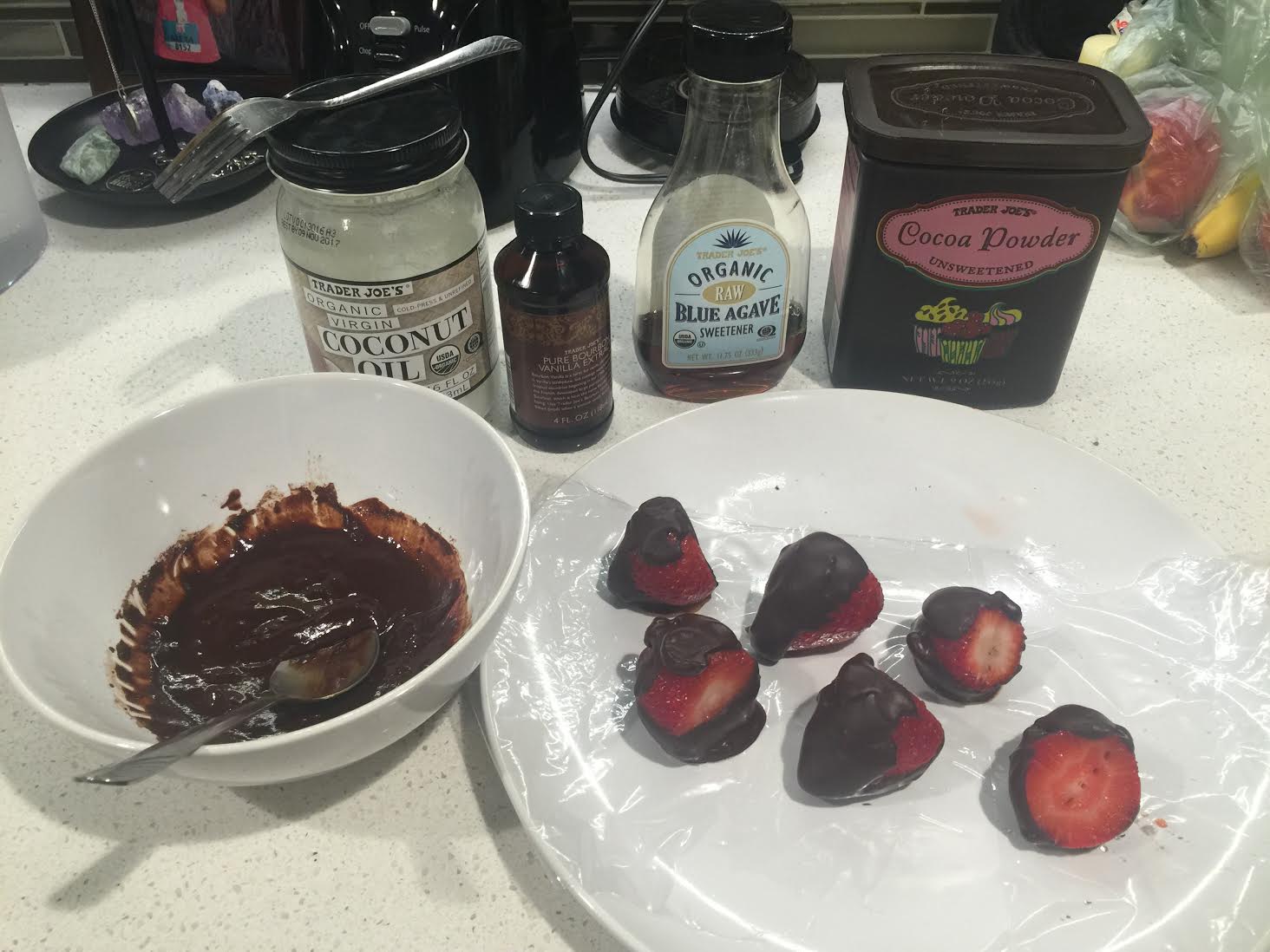 You will need:
3 tablespoons organic virgin coconut oil, melted
1 teaspoon vanilla extract
2-3 tablespoons organic agave nectar
1/3 cup cocoa powder
Wax paper or plastic wrap
Mix the melted coconut oil, vanilla, and agave until blended.  Scoop in the cocoa powder slowly and mix until the consistency is smooth.  I usually taste test at this point.  If you like sweeter chocolate, use more agave and less cocoa powder.  If you like bitter chocolate, use less agave and more cocoa powder.  If you are just making the chocolate, spoon the mixture into quarter-sized amounts on the wax paper or plastic wrap.  If you are dipping or covering other treats, use a fork and gently roll your objects into the mixture.
You might notice that the chocolate starts to harden pretty quickly.  This is due to the coconut oil starting to solidify.  If you are noticing a very liquid-y consistency, just add more cocoa powder to firm it up.  I usually pop my chocolates in the freezer for about 15 minutes before eating.
Enjoy!